---
Monkey Claw is made up of Glen "Stuey" Newman, Timothy Miller, Bert Navarrete (aka Spirt), Adam Rosen and Heath Richardson. Another person that help us out in times of need is Jay Humphries, a former monkey. We generally hang at Cross Keys, NJ, where we have a freefly school and also load organize and generally just have a lot of fun.
We also travel around the country load organizing and giving seminars for events. You can always get the scoop on what events are going on in the Freefly world and where we're gonna be by checking out our Freefly Calendar page. This lists major Freefly event in the US and whether we'll be attending!
If we're in your area or you're near Cross Keys, please come out to see us, jump with us and have a kick ass time!
Remember that the Monkey Claw Freefly Jam is coming in May 2003! Mark the 23-26th on your calendars and plan on coming out to Cross Keys for a rippin' time!
---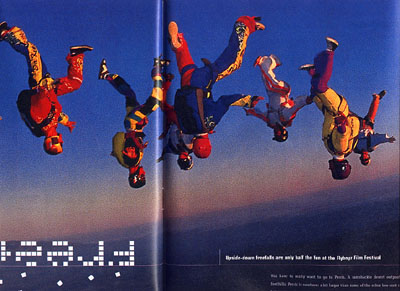 The ESPN Magazine from October 4th, 1999 - with Michael Jordan on the cover - has a huge 2-page pic from the Flyboyz Film Festival featuring the members of Monkey Claw! It's such a big pic, only part of it could be scanned! Timmy is on the far left in the scan (people farther left had to be cut out from the scan), then Dustin from Team Pimp out of Texas, Jay Humphries, then Stuey, then TJ (best known for his swoop INTO the pond at the end of our Film Festival video), Heath from Psycho Cirkus and Storm from Eloy. It's a killer shot by Fritz Pfnur! You have to see the real thing!
---
Need to contact us about anything? You can write Monkey Claw and let us know what you think!
---
Copyright © 2003 MonkeyClaw Freefly
The material on this web site can be can be used for non-commercial purposes only