Monkey Claw is a skydiving team based out of Skydive Cross Keys in Cross Keys, New Jersey. We have competed in several SSI events, local and regional competitions and the US Nationals. We also travel around the country promoting the sport of skydiving and freeflying by load organizing, coaching, giving seminars and generally having a great time!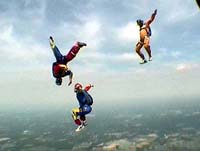 Monkey Claw is made up of Glen "Stuey" Newman, Timothy Miller, Bert Navarrete, Adam Rosen and Heath Richardson. We also enlist the help of others when needed. One of the great freeflyers that help us out is Jay Humphries, a former monkey who has moved from the area but still comes back to visit.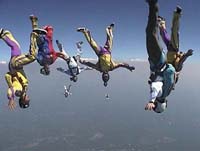 Freeflying is a form of 3-dimensional skydiving that is not limited to the more conventional "belly-flying" that most people are familiar with. It involves flying on your head, flying on your feet, on your side, back and stomach. It encompasses all positions imaginable. Some people say skydiving is better than sex. If this is true, then freeflying is the Kama Sutra of skydiving! Freeflying is a new dimension in skydiving, and we have dedicated ourselves to advancing this style of skydiving.
Please look around this site to learn more about us, Freeflying, and see some cool pics at the same time! The site is updated weekly if there's been jumping (and often when there hasn't!), and the pictures page is usually updated each week with shots from the previous weekend of skydiving. We also have our video page with vids of jumps made throughout the year!
Remember, the next Monkey Claw Freefly Jam is coming in May of 2003! Mark the 24th-26th on your calendars and plan on coming out to Cross Keys for a rippin' time!
---


The ESPN Magazine from October 4th - with Michael Jordan on the cover - has a huge 2-page pic from the Flyboyz Film Festival featuring the members of Monkey Claw! It's a big pic, so only part of it could be scanned! Timmy is on the far left in the scan (people farther left had to be cut out from the scan), then Dustin from Team Pimp out of Texas, Jay Humphries, then Stuey, then TJ (best known for his swoop INTO the pond at the end of our Film Festival video), Heath from Psycho Circus and Storm from Eloy. It's a killer shot by Fritz Pfnur! You have to see the real thing!
The HBO documentary called XTREME: Sports to Die For features freefly video from Bert and Jay!! This documentary has a part on Sean MacCormac with video from our team members. The show dates and times can be found at HBO by doing a search for America Undercover.
If you have any questions or comments, you can write Monkey Claw and let us know what you think!
---
Here's the current weather out here:

---
Special thanks to: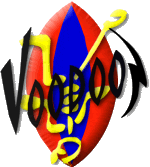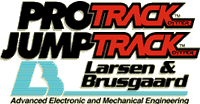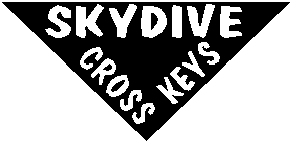 ---
Check out some other skydiving sites on the rings!
---
Copyright © 2003 MonkeyClaw Freefly
The material on this web site can be used for non-commercial uses only