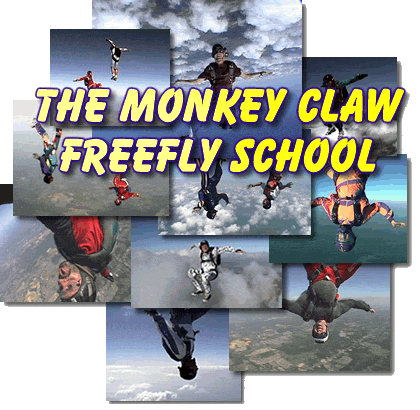 The Monkey Claw Freefly School is run from Skydive Cross Keys in Williamstown, New Jersey. We offer instruction for all levels of freeflyer, and cater to students who want to learn about all aspects of skydiving.

To train with our school, you need to be "A" license qualified and be current in your skydiving skills. You also should have your own rig that is freefly friendly, a visual and audible altimeter and preferably a hard helmet. If you are missing something, you can usually rent rigs or buy equipment from our local student concession or rigging shop.

Our student's safety is our number one concern. We use proven methods of instruction to insure that our students have a safe, enjoyable experience while honing their freefly and skydiving skills. Safety is not just about what equipment you use and making sure you open! Safety is an attitude that we drill into our students so that they will be calm and confident in all situations while having fun learning to fly.
Freeflying has many more risks than traditional skydiving. There are rapid speed changes both horizontally and vertically, and a variety of skill levels when jumping in groups. Our training program is designed for 1-on-1 interaction, working the student progressively toward the goal of safely being able to freefly with groups of people. After working through our program, the student will be a safe, fun skydiver that others will want to jump with. From here, we continue the progression with freefly camps aimed towards intermediate and advanced freeflyers.
Part of insuring a safe atmosphere in the air is a thorough briefing on the ground. We take additional time with our students explaining the various aspects and dangers of freeflying. Because of this, we require a 5-jump minimum commitment from our students. We have found that this allows us to spend more time with a student as they progress, and the student progresses at a faster rate.

Copyright © 2003 MonkeyClaw Freefly
The material on this web site can be used for non-commercial purposes only